Ideas and Themes for Chinese Auctions, Tricky Trays, Silent Auctions, Penny Socials and Penny Sales
What are they, anyway?
Chinese auctions, tricky tray events, silent auctions, penny socials and penny sales are enduringly popular special event fundraisers that combine the elements of both an auction and a raffle. Think of them as benefit auctions with a raffle twist. What you call them and how you define them depends, in large part, on where you live.
And there are as many different ways to run these events as there are different names for them!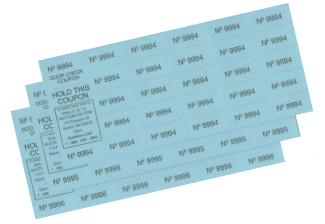 The one thing they have in common, though, is that the bidding is usually done by ticket. Each participant buys a certain number of tickets for a set price, then uses those tickets to "bid" on a variety of donated items on "auction." They can bid as many tickets as they wish on each item they're interested in, usually by depositing the tickets in a container assigned to that item. Rather than going to the highest bidder, though, as it would at a regular auction, the item goes to the person whose ticket is drawn, at random, from the container.
It doesn't take long to figure out, of course, that the more tickets you bid on an item, the better your chances of winning. And as anyone who's ever bid a lot of tickets on a "must-have" item can tell you, that's what makes these events so much fun. It's also what makes chinese auctions, penny socials, penny sales and tricky tray events good money-makers for the groups that run them!
How they work
Sometimes all of the auction items are displayed on tables, with a corresponding ticket box next to each item. Bidders walk around and browse all the wares, bidding their tickets on favored items as they go. At the end of the event, a winning ticket is drawn from each container. This is a popular way to run one of these auctions when it's part of another larger event, such as a craft show or holiday fair, that's going on at the same time.
Another variation, which can be more exciting and more profitable, is to run the auction as its own event. The bidders are seated for this one and one item is brought up for auction at a time. As the auctioneer describes the item, workers pass through the crowd collecting the tickets people want to bid on it. If participants see a lot of tickets being bid and they really, really want the item, they may decide to drop in even more tickets to up their chances of winning. As a result, enthusiastic bidders often use up their original ticket supply pretty quickly, and event workers are on hand to gladly sell them more.
A third variation, which we've seen used successfully year after year by a local women's organization, is to have everyone deposit all of their tickets in one big drum. After a special dinner, items are brought out one at a time, and a winning ticket for each is drawn from the drum. No one has any control over which prize they may win, and everyone has a chance at winning more than one. To spice things up and raise more money from the event, five or six high-priced items are auctioned separately during the evening. People who wish to bid on those purchase additional tickets.
What kind of items?
Chinese auction, penny social, tricky tray or penny sale items can run the gamut from inexpensive, trinket-type things all the way up to items worth hundreds or even thousands of dollars. Tickets might be priced at 25 for $2.50 or $5 for the first type of auction, and priced as high as 25 for $50, $100 or more at a high-end event. That's a far cry from years ago when, in New England at least, tickets were sold for a penny each. (Hence the name penny sale or penny social.)
What you'll charge for tickets at your event depends on the size and type of crowd your auction will attract, and on the value of items being auctioned. In either case, the more items the better. And those are donated items, of course!
Gift certificates and merchandise from local businesses are the types of donations most commonly sought by clubs organizing these events, but there are many other possibilities as well. Autographed baseballs, dinner with a local celebrity, a pie-a-month baked by a club member, a backstage tour of a television studio . . . The kind of auction donations you go after is really only limited by your imagination -- and whether or not you plan to design your event around a special theme.
How about a themed auction?
Some groups have very good luck with theme auctions. They might go with a gardening theme in early spring, for example, offering everything from gift certificates for yard cleanup, landscape design or pool maintenance to garden ornaments, flats of plants and gardening tools.
If a whole themed auction seems too difficult to pull off, you might try a few themed fantasy packages instead. Made up of a number of related items, these can be a hugely popular addition to a general auction. One group we read about offered a "guy's prom package" and a "girl's prom package" -- including everything from tuxedo rental and prom dress to flowers, hair design, manicure and limousine. Fantasy packages can be themed for almost any rite of passage or popular activity -- weddings, new baby, retirement, golf, sailing, auto racing and travel, just to name a few.
Sometimes it doesn't even matter what kind of items a chinese auction, tricky tray, penny social or penny sale offers. One nonprofit organization we know of goes all out disguising its auction wares in elaborately trimmed wrappings. People are so busy admiring and bidding on the beautiful, creative packaging that they don't really care what's inside!
However you decide to structure your event, and whatever you call it, the most important thing is that it offers something for everyone -- and that it's fun for all involved.
Click here for information about tickets for your next chinese auction, tricky tray event, penny social or penny sale.


Copyright © 2012 All rights reserved.